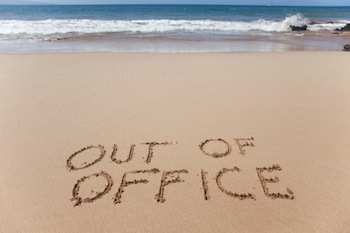 Ah, the out-of-office message: The email equivalent of a dead end. Seeing as we're in the thick of a holiday season, my guess is you're either going to be setting one of these auto-replies up or seeing a whole lot of them bouncing back into your inbox.
Out-of-office messages are important, as you'll need to set expectations and ensure you don't leave anyone hanging … but it does seem like we could be making them a bit more enjoyable, don't you think?
For inspiration, here are a few examples from people who took the out-of-office reply to a new creative level.
Should you do this? Probably only if you've got some spare time on your hands and if it fits the culture of your office and the people who you expect to be emailing you. But if so, we say do it. We all need a little pick-me-up in our inboxes.
First and foremost, be useful.
Before you get to the fun stuff, make sure you've got your basic responsibilities covered. If you miss on these, no clever wordplay is going to make up for it.
When are you going to return?
Will you be slow to respond or completely unavailable?
Who can the emailer get in touch with if the matter is time-sensitive or an emergency?
Get that information down and make sure it's clear. The creative components of an out-of-office shouldn't obfuscate the above information. Now that that's covered, let's try to make some people smile.
Include a short video.
One winter, I received an out-of-office reply from a coworker with a bit of a surprise inside. Beneath the out-of-office subject, the message read: "Help! I've been captured by angry short people with serious demands … I have no access to email/phone/SMS/web until their demands are met!"
Following the message was an adorable video starring her sons demanding a bat mobile and all the candy in the world or, as the video explained, "The iPhone gets it!"
The overarching message? Your email is important, but I'm cutting the cord to my work email this week to spend some time with my kids. It softened the blow a bit when I realized I wasn't going to get an answer instantaneously and reminded me that, sometimes, work can wait.
If video-making isn't your boat, you can always include a fun video from your company or a YouTube clip that allows sharing. For example:
Sorry I missed you. I'm on vacation until Monday and will get back to you at that point. If your matter is time-sensitive, you can contact my teammate John at Johnsmith@company.com. I don't want you to go away empty-handed, so here's a puppy to keep you company until then.

Note: If you do this, remember that most email clients won't allow embedding, so you'll want to take a screenshot of the video and link to where it is hosted for those wanting to view it.
Give them something fun to do.
The first thing people picture after receiving your out-of-office is the …read more
Source: Lead Management